NFK has been making every effort to develop a variety of energy saving and environmental protection technologies of which the core technology is combustion technology including HRS, High-cycle Regenerative Combustion System.
The R & D center at the company headquarters is fully equipped with experimental and testing combustion facilities for the development of new products, improvement of existing products and testing of ordered products. NFK can therefore offer customers dependable, high quality products, each of which are tested and verified by a series of technical experiments. NFK is proud to note that it has received national recognition for the development of the original High Temperature Air Combustion technology (HiTAC). HiTAC has been adopted as the core technology in the National Development Project supported by the New Energy and Industrial Technology Development Organization (NEDO), a government organization promoting energy conservation, environmental protection, and reduction of carbon dioxide emissions.
Since 1999, NFK, in cooperation with Japan's leading engineering firm, Chiyoda Corporation, has been involved in a national research program studying the application of HiTAC to the steam reforming process. The results have been remarkable and discussions are underway to build a commercial facility. The photograph below shows the experimental facility built and operated for this purpose.
As part of NFK's strategy to expand R & D activities beyond its borders, we have been actively engaged in the exchange of technical information with various overseas research institutes. NFK provides many kinds of equipment for test purposes to research laboratories. and also participates in joint experiments and discussions for the exchange of technical information.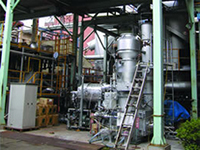 Test Facility at the NFK Headquarters

Test Plant for Hi-COT National Project